Collaboration via The Cloud
What came first: science or friendship?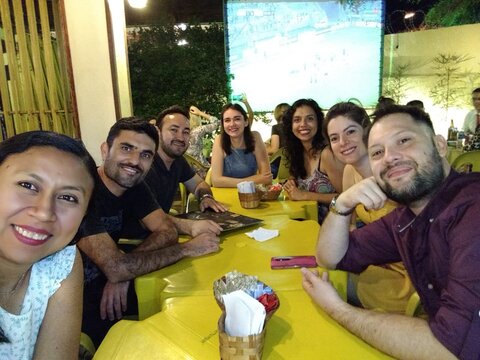 Workshops and international meetings are a perfect environment to network and meet new people working in similar fields. During the event, you go to dinner or drinks, and share like you've known each other for a while, but what happens after the meeting is over and everybody returns home to their routine?
In 2019, the Gnatwork hosted a workshop in Belo Horizonte, Brazil and early career researchers from South and Central America came together to learn and share their current research.
Maybe it was because we all spoke the same language or because we shared a similar sense of humour, but group of six of us started to spend more time together. Some of us had heard our names through publications, others were completely new to the field, but it was clear that no social networking could replace the friendship that was born from this experience.
After the workshop we created a WhatsApp group to keep regular contact. We share our research papers, our academic successes and support each other in our failures. We have asked research questions and helped each find the answers, but the most valuable outcome from this group is the friendship that has been grown from that one opportunity.
One week was enough to not only learn valuable new skills in our chosen careers and connect across five research centres, but provided the foundation for friendship. In time we are confident this will result in formal collaborations. At first it was science, and then it was friendship, and one day it will be more science!
Authors:
Enrique Szelag
Ornela Stechina
Angelica Pech May
Sofia Lorian Moya
Fredy Galvis
Yaimie López